After consuming the Crazy Rich Asian series by Kevin Kwan and watching the movie (multiple times) a trip to Singapore was particular exciting for me. Not only is my best friend living there, but I really wanted to experience the delicious food and beauty the city seemed to offer!
Singapore did not disappoint. An eclectic mix of multiple cultures, old & new, this city is more than a layover.
This article is dedicated to the Best in Singapore and how to achieve that Crazy Rich Asian experience. Skip here if you want to see purely where you can go to experience the scenes of the movie.
What to do & see
One of the highlights of Singapore is the food scene and bars, skip here to read more on those.
1. Hawker Markets
A highlight for us was 100% the food. Hawker centres are lively, fun, authentic and full of different food options. Singapore is famous for Michelin star mum + pop joints. Maximum flavour and minimal price, what's not to love? Tip – bring your own napkins. For a more detailed list skip here.
2. Little India
Thinking we'd love the more shinier aspects of Singapore, we actually found Little India one of our favourite places to visit in Singapore. The hawker market there was super fun, with fresh juices and authentic produce market. The historic Chinese villa Tan Teng Niah in its centre and colourful Sri Veeramakaliamman Temple were particular highlights.
3. Buddha Tooth Relic Temple & Chinatown
Chinatown is home to a plethora of delicious food, interesting shops and the serenely beautiful Buddha Tooth Relic Temple. This temple is a little slice of silence and calm in the bustling modern city that is Singapore. Definitely worth a visit, make sure to go to all levels! The rooftop garden and Buddhas of the World Museum are something you can't miss.
4. National Gallery Singapore
This Asian Art Museum is worth a visit, it's an impressive building that not only hosts beautiful art but also boasts a panoramic view of Singapore, Marina Bay and Marina Bay Sands at its rooftop bar. This museum is surrounded by other picturesque 200-year-old buildings, try resist the urge to stop and snap a pic.
5. Marine Bay Sands, the Promenade & morning yoga
Marina Bay Sands is in a word iconic. Costing $8 billion, this resort complex is home to a high-end hotel, casino, museum, gardens, bars, luxury shopping centre and famous infinity pool. You can enjoy this unique building in multiple ways, from afar, up close, or on top to witness the spectacular views over Singapore and the Singapore Strait. Visit The Shoppes (the mall within it), stay at the hotel to use the infinity pool, visit the observation deck, or have a drink at one of the rooftop bars or morning yoga at SkyPark. Top tip – reserve a table at CÉ LA VI SkyBar (the rooftop bar) at sunset to enjoy the changing panoramic views by day and night. We got lucky and reserved a day during Singapore National Day celebrations.
6. Gardens by The Bay
Another impressive complex of two large modern greenhouses and grove of Supertrees that harness solar energy. Worth a trip by day and night. Our favourite part was the Cloud Forest that replicates conditions found in tropical mountain regions. Leave plenty of time to see everything these large gardens have to offer.
7. Shop Houses
These colourful and photogenic buildings are scattered throughout Singapore. Particularly pretty examples surround Chinatown along Tg Pagar Road, Neil Road, Keong Saik Road and Bukit Pasoh Road. Emerald Hill is often spoken of as a particularly great example, but personally we don't recommend making the trip out there purely for the houses, there are similarly nice shop houses in easier to access places.
9. The Jewel
An airport being on the list? Changi Airport is home to a large nature-themed entertainment complex called Jewel. There's entertainment, retail stores, restaurants and gardens. The highlight is the world's tallest indoor waterfall, the Rain Vortex, that's surrounded by a terraced forest. We arrived in Singapore at 3am, so stayed at YOTELAIR for one night to rest, shower, and we then woke up to enjoy the Vortex from our hotel!
8. The Fullerton + Boat Quay
Another icon, The Fullerton, is a five-star luxury hotel in the heart of Singapore built almost 100-years-ago. Walking around this hotel is beautiful and you can enjoy the views of Boat Quay.
10. Sentosa Island
Sentosa is home to multiple beaches, beach clubs, Universal Studios and warm water to take a dip in. The beaches are artificial, but still fun to visit if you fancy taking a swim and drying off on the sand, the best is definitely Tanjong Beach. Personally, we'd skip the beach clubs (expensive + overrated).
11. Fort Canning Hill
Tranquil Fort Canning is a small historical hill that was originally used for military purposes. Now it's home to Fort Canning Park that offers many different attractions. It's nice to experience a slice of nature in this urban city and explore the old fort.
12. Shopping
If you love shopping, especially luxury shopping, Singapore is the place to do it. The Shoppes is an impressive complex with a Venetian-like canal and Sampans (like gondolas) running through it. The Shoppes also has six Celebrity Chef restaurants and Crystal Pavilions home to impressively designed stores. Orchard Road is FULL of shopping centres, yes multiple shopping centres. We aren't big shoppers, but if you are, here is the place to go.
Where to Eat
Hawker Markets
Chinatown Complex Food Centre
The Michelin star dumplings at Zhong Guo La Mian Xiao Long Bao (#02-135) were our absolute food highlight. Order the Chilli dumplings and Xia Long Bao.
Tekka Centre
An experience in itself. Order curry and naan at Pak Kashmiri Delights (#01-250), a fresh juice and then explore the wet markets and fresh produce.
Newtown Food Centre
Fried oyste omelettes at Hup Kee Fried Oyster Omelette (#01-73), beer on tap, and satay at Bee Heng Satay Popiah (#01-12) are some of the highlights.
Maxwell Food Centre
Famous for the Michelin star chicken rice at Tian Tian Hainanese Chicken Rice (#01-10/11). However, if you don't feel like lining up for your chicken rice, there are many shops in this centre that give similarly tasty dishes!
Singapore Chilli Crab
No Signboard Seafood at Geylang
Our other food highlight! No Signboard Seafood isn't in the touristy area of Singapore, but the Singapore Chilli Crab here is one of the best! We absolutely loved it and would definitely come back for more.
JUMBO Seafood
Come for the view and the chilli crab. More touristy, but delicious and with a vista of the Singapore Strait.
Where to Drink
ATLAS bar
Wow. This bar left us at a loss for words. Inspired by the glamour of New York in the Roaring 20s and as if out of a Batman movie, this luxurious bar was constructed by an heiress of a billionaire Hong Kongese property magnate. It may also be home to the world's largest gin library.
CÉ LA VI SkyBar and Lounge
You come here for the priceless panoramic views of Singapore at floor 57. Make a reservation in advance and try book for sunset. We got lucky and came during National Day preparations. Tip: buy a beer and enjoy the killer views for less.
Long Bar & the Singapore Sling
The famous Singapore Sling was invented at the Long Bar in Raffles Hotel in the early 1900s. Maybe touristy, but fun all the same, this colonial-style bar stays true to its roots. Above your head are waving palm-shaped fans, on the table and floors piles of discarded monkey nut shells. Don't worry, the shells are meant to go on the floor, littering is encouraged and all part of the tradition and fun! We enjoyed throwing the nut shells the most. Note: one Singapore Sling will set you back $37 SGD a pop.
As seen in Crazy Rich Asians
Newton Food Centre
One of the first scenes in Singapore is filmed here, when Rachel, Nick and his friends go for dinner. It's easy to get to, bustling and full of yummy food options. Especially famous for the oyster omelettes, satays and tap beer! Get the metro to Newton MRT.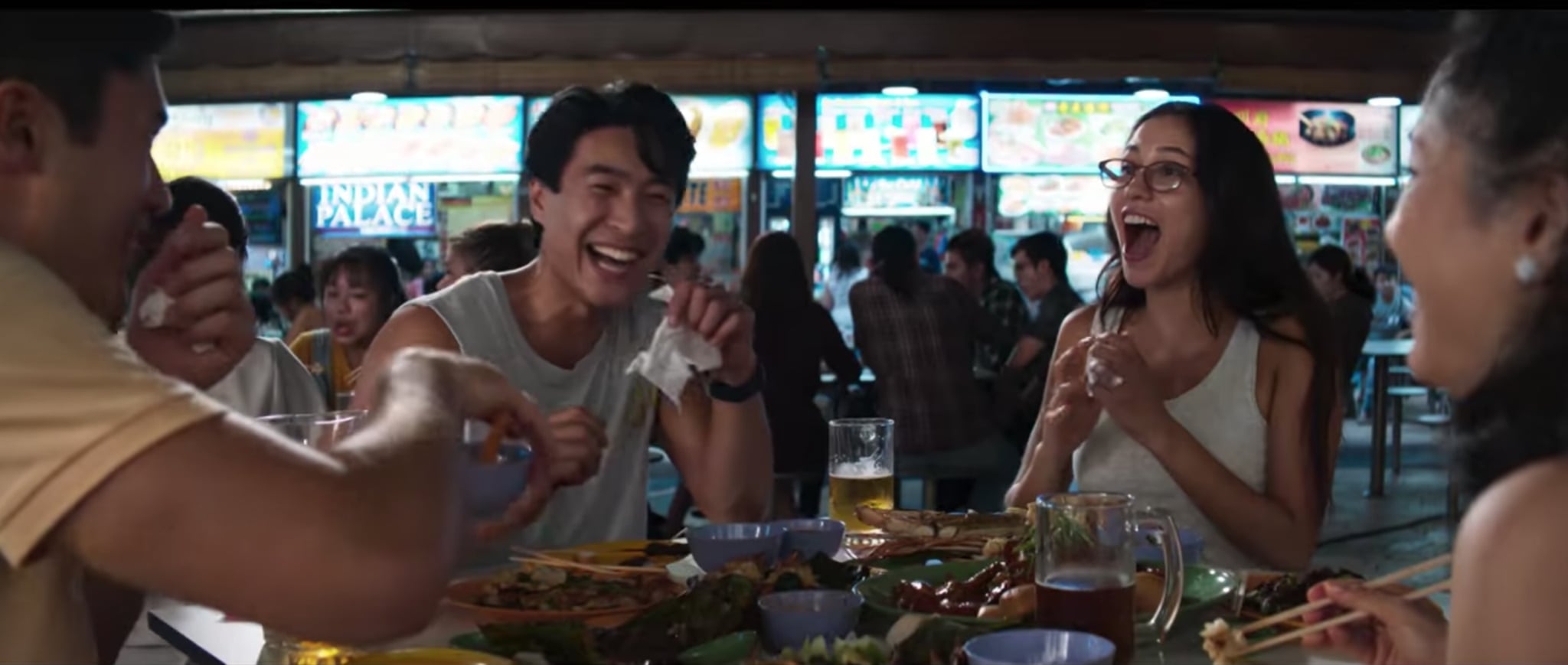 Marina Bay Waterfront Promenade
As Nick and his friends drive Rachel around they take in the sites of Singapore at night. A few of the great shots were filmed at the Marina Bay Waterfront Promenade. A super nice place to go for a night time stroll (the city lights and cooler temperature are a plus). Get off at Bayfront or Downtown station.
The Fullerton Hotel, Merlion + Anderson Bridge
A few scenes were shot in front of The Fullerton Hotel, near the Merlion and Anderson Bridge. A pretty place for a walk and in the heart of downtown. Get off at Raffles Place station. If you have cash to spend stay at the 5-star Fullerton.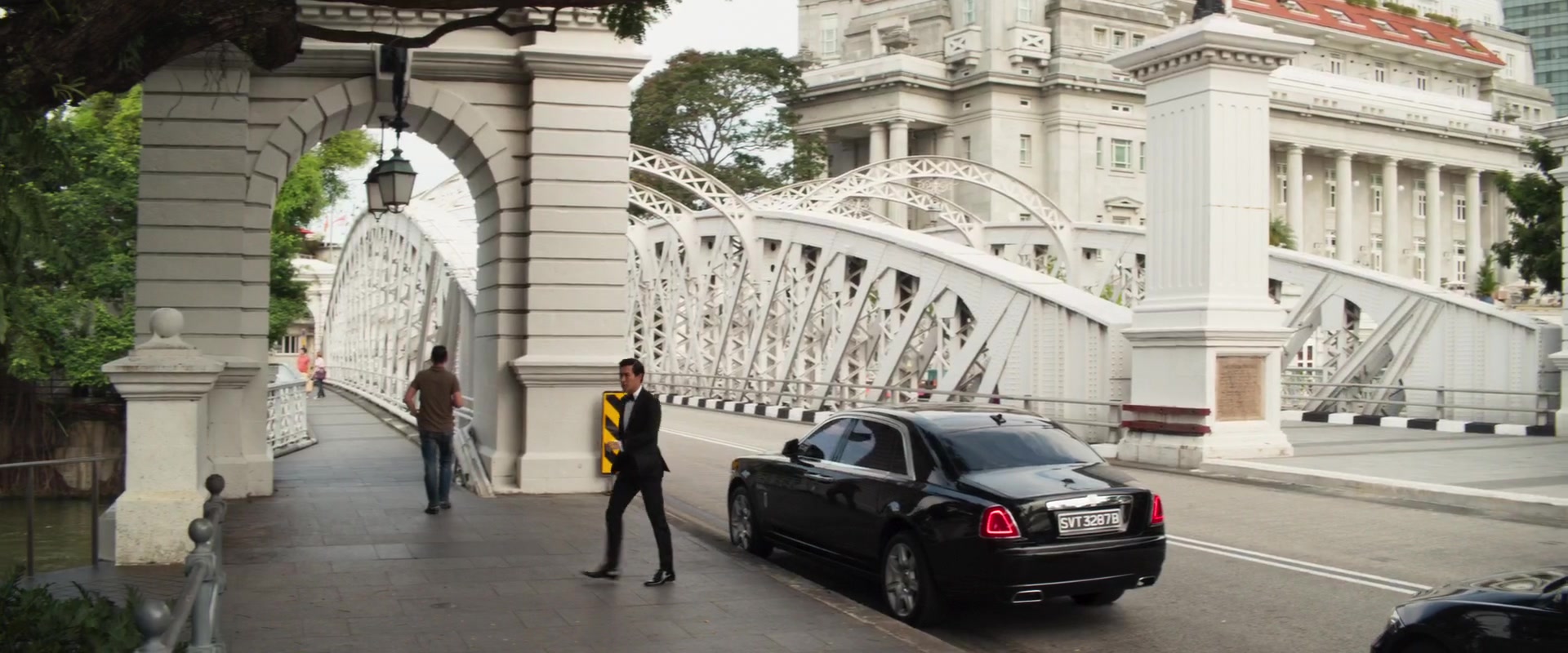 Raffles Singapore
Nick and Rachel stay in this historic luxury hotel distinctive for its colonial design. Stroll by, stop for a drink at the Long Bar or stay for a night if you have the money for it.
Shop Houses – Bukit Pasoh Road
I listed a few roads where you can appreciate the colourful shop houses of Singapore, but if you want to see where it was filmed for the movie head to Bukit Pasoh Road.
CHIJMES
Where the exterior of the wedding ceremony was filmed. This building was a former convent and is now home to bars and restaurants.
Gardens by the Bay
The extravagant wedding reception is filmed at Gardens by the Bay at night under the Supertree Grove. Visit the free light show at night to experience the trees lit up.
Marina Bay Sands
Where the surprise engagement party was filmed. Stay at this hotel to visit the infinity pool or go to a bar, restaurant or the SkyDeck to visit the top floor. You can enjoy views of this iconic building all over Singapore.
Getting around
Most places in Singapore are walking distance, but keep in mind that Singapore is hot and humid!
The public transport system is great in Singapore and there are affordable deals through buying the Singapore Tourist Pass. Or you can use your credit card to tap on and off.
Where to Stay
We stayed here and loved it as it was beautifully decorated, there was a pool and it was in Fort Canning Hill so we were surrounded by nature. Rooms from $396 AUD per night.
Not 5-star, but high-end, this hotel's main draw is the iconic structure and access to the famous infinity pool. Rooms from $800 AUD per night.
Colonial architecture and 5-star, this hotel is for those wanting luxury. From $1650 AUD per night
Another luxury hotel in the centre of the city with great views of Marina Bay. The Fullerton Hotel costs from $513 AUD per night.